Autoclave Bags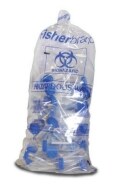 Autoclave or sterilisation bags are supplied for the secure containment of items intended for autoclaving, steam sterilisation, disposal or incineration. They are available either as standard bags, which need to be tied or taped closed after filling, or as convenient self-sealing pouches.
These bags may also be preprinted with appropriate hazard signs or other safety information for additional security. They may also feature a write-on panel for further identification and labelling, or sterilisation indicators which change colour after the autoclave process has been successfully completed.
Autoclavable bags are typically constructed from heavy-duty polythene or from heavy-duty polypropylene for tear and puncture-resistance. They are also available as low temperature (suitable for use up to 121°C) or high temperature versions (up to 134°C) depending on the nature of the contents and the chosen autoclave settings.
Autoclavable bags are also available manufactured from high quality, wet-strength paper, which is also suitable for use in gamma-sterilisers as well as autoclaves. They are available in a range of sizes and capacities.
Where can I use autoclave bags?
These products are essential in a range of different workplaces:
In clinical or biohazard labs when dealing with large volumes of contaminated waste
In surgical settings for sterilisation of instruments and equipment
In biological research, cell culture or microbiological laboratories for routine sterilisation of glassware and plasticware
In other industrial environments (for example, dairy) where potentially hazardous materials need to be kept secure and separate
More