IKA
About IKA
IKA Worldwide
IKA develops and manufactures the very latest, modern equipment for the laboratory and for the process industry. In order to help make our customers' work even more successful, we combine the latest technology with innovative design and we also look far into the future. For example, our products are future-proofed for integration into your digital laboratory. Although still a family-owned company, we are nevertheless a global player, aware of our global responsibilities. Over 900 employees make a contribution each and every day to extending our world-leading market position in laboratory, analytical and processing technology.
At our headquarters in Staufen, Germany, we have been developing our products and technologies in collaboration with application experts from the fields of science and industry for over 70 years. From Staufen, we export to more than 160 countries. Excellent local service is also provided by our own subsidiaries in the USA, China, Japan, India, Brazil, Korea, Vietnam, the United Kingdom and Poland.
Award-winning laboratory equipment
Because of our strength in innovation, quality of design, global sense of responsibility and commitment to the laboratory and industrial sector, IKA continues to receive awards for its outstanding performance. Entrepreneurial courage, dynamic processes and communication-readiness justify this success, demonstrating to us that commitment and perseverance always pay dividends!
German Design Award 2020 for the IKA PETTE
The new IKA PETTE fix and vario pipettors, available in a total of 18 different models, have been awarded the German Design Award 2020 for outstanding design quality. The design committee recognised these laboratory classics in the category 'Excellent Product Design – Industry'. The ingenious ergonomic design of the new PETTE not only looks good, it also proves to be effective, particularly where frequent pipetting is required in the laboratory. Three interchangeable ergonomic grips are included with the PETTE, because each hand is shaped differently. In addition, the large mechanical volume display is just one of the contributory special design features. It is easy to read, even when pipetting.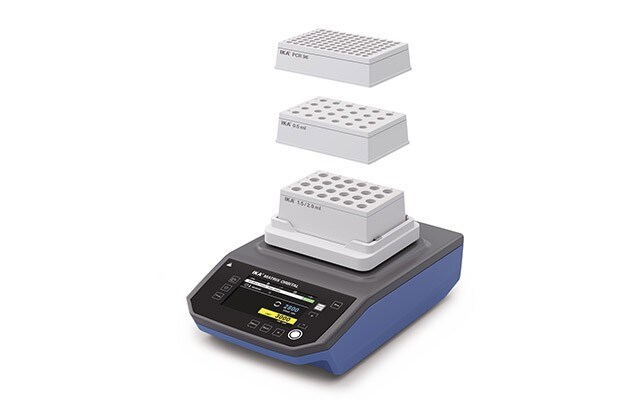 Mixing, heating, cooling – It's no longer a question of either/or...
Powerful MATRIX thermoshakers can do everything you need. You can achieve optimal mixing results with the smallest of volumes, whether it's blood samples, pharmaceutical agents, DNA/RNA samples or ELISA assays. In combination with IKA incubation shakers, centrifuges, pipettes and dry block heaters, our thermoshakers facilitate optimal workflows in any application involving sample handling, liquid handling or cell handling.
Design strength and user-friendliness
Appealing, user-friendly yet functional design has always been central to IKA philosophy as recognised by coveted Red Dot awards received for our Tube Mill Control (batch mill) and our LR 1000 laboratory reactor in 2013, and later in 2018 for the ElectraSyn 2.0, the world's first device for electrochemical organic synthesis. Furthermore, the German Design Council awarded our UTTD Control Disperser a 'special mention' in 2014, and also awarded our IKA T 25, an easy-clean high-performance disperser, as a technical world innovation in 2018.
Resources
Videos
IKA Featured Products Videos
IKA - T 25 Easy Clean Digital and Control
IKA - Ministar 20 Control
IKA - Ultra-Turrax Tube Drive Control
IKA Lab Reactor LR 1000 Control - How to Make Hand Cream
Products
Filtered Search Results
Products from some of our suppliers do not display in filtered search results. Please
clear all filters
to see these products.