DWK Life Sciences
Safety matters. And in the lab, safety matters a lot.
However, selecting the safest type of labware for an application can be overlooked.
With more than 100 years of commitment to innovation across our business, we have created a wide range of products designed to improve lab safety, protecting you, your colleagues, and the contents you are working with.
Our lab safety products are divided into several core categories, each with their own safety benefits. To make key safety attributes easy to identify we have also introduced four safety badges.
Our Built Stronger badge is assigned to products with greater levels of robustness and durability. Our Safer Handling badge is assigned to products that are easier to handle and use during day to day lab work. Our Spill Protection badge is assigned to products that reduce the risk of accidental spills or leaks. And our UV Protection badge is assigned to products that protect contents from UV light damage.
Explore the products in each category below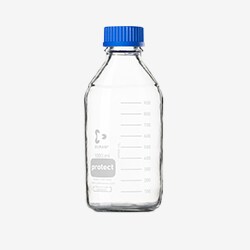 Plastic Coated Glassware
Virtually inert borosilicate glass meets an external plastic safety coating.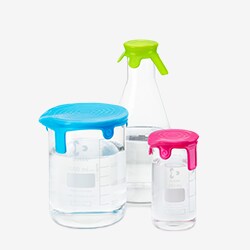 Silicone Lids
Safe and sustainable way of covering laboratory containers of different shapes and sizes.

Safety Venting
Wash Bottles
With patented DripLok vapour venting valve to reduce the risk of solvent drips.

---
Today, Together For Tomorrow
Find out how DWK Life Sciences can support your bio-processing and vaccine manufacturing needs, with a comprehensive product range including:
Sterile and non-sterile high-quality plastic products for sample collection and diagnostics in the field
Cell culture products and specialised solutions to support preclinical vaccine research, stability studies and more
Full-scale production and pharmaceutical packaging
---
Plastic Bottle Survey
We've launched a user survey to help shape the development of our plastic bottle range.

If you're a scientific plastic bottle user then you could win an Amazon gift voucher with your input, regardless of the brand of bottles you currently use.
---
Products
We have found 0 Results for
We are sorry we couldn't find any items matching your search term.
Search Tips
We recommend using fewer words. For example, instead of searching for "Fisherbrand plastic 15 mL beakers", try "plastic beakers".
We recommend using broader terms. You will be able to refine your search results by category, brand, and more.
Check the spelling of search word(s) or use the auto-suggestion feature in the search box.
Your search item may have been discontinued.
---
---
DURAN
About DURAN®
DURAN® is a premium brand for laboratory glassware made from borosilicate glass 3.3 and engineered in Germany. It combines over 120 years of manufacturing expertise with excellent product quality and the passion to innovate. The DURAN® portfolio comprises over 3,000 products, mainly manufactured to DIN/ISO standards.
DURAN® borosilicate 3.3 glass is notable for its highly consistent, reproducible quality. It possesses very high chemical resistance, inert behavior, transparency, a high usage temperature, minimal thermal expansion and a resulting high resistance to thermal shock. It also conforms to the requirements of a USP/EP/JP Type 1 neutral glass suitable for use by the pharmaceutical industry.
WHEATON
About WHEATON®
WHEATON® has over 126 years of experience in the design and development of innovative product solutions to the many industry sectors across the globe, including life science, in vitro diagnostics, environmental, homeopathy, biotechnology and pharmaceutical.
The WHEATON® brand is recognised worldwide for innovative primary packaging solutions. Alongside the ability to design and manufacture bespoke customised glass and plastic vials and containers to meet regulatory requirements, the WHEATON® brand can additionally provide premium services for products, including critical cleaning, sterilsation, depyrogenation, barcoding and tare weighing, helping to deliver solutions to daily laboratory and packaging challenges.
In-house manufacturing expertise within the DWK Life Sciences group, coupled with innovative high quality glass and plastic products and equipment, provides market leading companies with excellent solutions to their ever changing needs.
KIMBLE
About KIMBLE®
KIMBLE® is a trusted brand for laboratory glassware and specialty products that are made from 33 expansion borosilicate glass and soda lime glass.
With more than 11,000 products, it offers a comprehensive range of laboratory glass products for scientific applications, mainly manufactured to ASTM standards.
Azlon
About Azlon®
Azlon® reusable plastic labware encompasses a variety of applications in the lab. With over 800 products, including wash bottles, volumetric items and storage bottles in a range of plastic polymers, the Azlon® portfolio includes all the plastic essentials needed for traditional science applications.
Manufactured to the highest quality standards, Azlon® products utilise a variety of plastic moulding techniques including blow moulding and injection moulding to ensure superior product performance. Azlon® is one of the most widely known and respected brands in durable plastic labware.
---
PYREX
About Pyrex®
Originally developed in 1908 for use on the American railroads, PYREX® borosilicate glass was designed to overcome a problem with train lanterns requiring a glass that could handle changes in temperature. The heat of the lantern flame conspired with the cold air of winter to shatter traditional glass lanterns.
Quickly realising that the superior thermal and chemical resistance properties of PYREX® borosilicate glass made it the ideal material for use in laboratory glassware, Corning Inc. registered the PYREX® brand name and went on to produce the first PYREX® laboratory glass items - beakers and flasks - in 1915.
DWK Life Sciences continues to produce PYREX® laboratory glassware under licence from Corning Inc., using traditional glassblowing techniques and the latest glass production technology.
Thanks to its revolutionary thermal properties and chemical resistance, PYREX® continues to be a trusted tool of scientists around the globe.
---
Quickfit
About Quickfit®
First developed in 1934, Quickfit® ground glass joints were designed as an alternative for scientists using rubber bungs, and glass and rubber tubing to connect pieces of glassware.
Today, Quickfit® jointed glassware is manufactured at DWK Life Sciences' production facility in Stoke-on-Trent.
Quickfit® glass items are manufactured exclusively from PYREX® borosilicate glass which has a low coefficient of expansion that makes it ideal for use over a wide temperature range. PYREX® is also highly resistant to chemical attack making it suitable for use with most acids, alkalis and organic solvents.
Quickfit® products surpass the requirements of ISO 383 and DIN 12242. A two stage grinding process ensures the formation of a precision 1:10 taper and super-fine surface finish. This results in joints with an exceptionally good seal and a greatly reduced risk of joint seizure.
Unlike other joints, Quickfit® sockets feature a rounded rim profile. This round design gives extra strength to the joint and is less prone to chipping than a square rim profile.
MBL
About MBL®
Introduced in 1949, the MBL® brand is comprised of around 300 mainly volumetric products. Now a well-established brand of DWK Life Sciences, MBL® features products made from both borosilicate and soda-lime glass.
All DWK Life Sciences volumetric products are tested and calibrated in an ISO/IEC 17025 accredited laboratory located at DWK's glass manufacturing facility in Stoke-on-Trent, United Kingdom. In addition to complying with the relevant ISO or national standard, the ISO/IEC 17025 accreditation offers our customers increased assurance of the precision and accuracy of our volumetric glassware.
The MBL® range includes measuring and mixing cylinders, volumetric flasks, burettes and pipettes, all manufactured, calibrated and tested to the highest accuracy standards.
MBL® has acquired an international reputation for its quality, accuracy and performance - a reputation that continues to this day.
Ramboldi
About Ramboldi®
Core products within the Ramboldi® range include sterile sample collection containers, primary urine tubes, Pasteur pipettes and inoculation loops.
Used extensively throughout the clinical market, Ramboldi® products are also an ideal alternative to glass.
Ramboldi® consumables are manufactured from virgin polystyrene and polypropylene with the sample collection containers being CE marked, complying to In Vitro Diagnostic Medical Devices 98/79/EC and Medical Device Directive 93/42/EEC.
Resources About DWK Life Sciences
DWK Life Sciences is a leading global manufacturer and supplier of precision labware as well as storage and packaging solutions for a wide range of scientific and industrial applications.
The DWK Life Sciences offering includes over 30,000 glass and plastics products, manufactured at 12 sites around the world and marketed under the acclaimed brands DURAN, WHEATON and KIMBLE, in addition to other well-known brands including PYREX, Azlon and Quickfit. Its world-leading and trusted glass is complemented by an innovative research and life science portfolio.
Worldwide, 1,700 people are dedicated to developing and delivering superior products and services that focus on the needs of our customers in Research, Life Sciences, Healthcare, and Industrial markets.
Safety matters. And in the lab, safety matters a lot.
With more than 100 years of commitment to innovation, DWK Life Sciences has created numerous products that have helped to improve lab safety, protecting you, your colleagues and the substances you are working with.
Go Safe. Trust in DWK.
DURAN Borosilicate Glassware
Noted for its highly consistent, reproducible quality, DURAN is a premium brand for laboratory glassware made from borosilicate glass 3.3 and engineered in Germany. The DURAN portfolio comprises over 3,000 products, including beakers, bottles, volumetric glassware and interchangeable glassware.
WHEATON Packaging and Life Science Products
With over 126 years of experience the WHEATON brand is recognised worldwide for innovative primary packaging solutions providing the world's laboratories with the most comprehensive range of labware for scientific research and technical applications, as well as solutions for storage and primary packaging. Core items within the range include vials, droppers assemblies, roller racks and incubators for cell culture.
KIMBLE Labware
The KIMBLE range of laboratory glassware and speciality products includes items made from 33 expansion borosilicate glass as well as those made from soda lime. With more than 11,000 products in total, the range includes tubes, volumetric, vials and microplates, lab bottles and caps and closures.
Azlon Reusable Plasticware
Azlon is one of the most widely known brands in plastic labware with over 800 products in the range including storage bottles, wash bottles, measuring cylinders, jugs and aspirators. Available in a variety of polymers, Azlon® reusable plastics cover a wide variety of applications providing you with all the essentials needed in the modern laboratory.
Pyrex Borosilicate Glassware
DWK Life Sciences produces PYREX laboratory glassware under licence from Corning Inc. More than 800 products are manufactured with Pyrex borosilicate glass including beakers, bottles, flasks, volumetric glassware and test tubes, all manufactured to the same exacting quality standards.
Quickfit Interchangeable Jointed Glassware
Manufactured from Pyrex borosilicate glass Quickfit pioneered interchangeable joints and is recognised throughout the world as the premier brand name in its field. Quickfit ground-glass joints are precision manufactured with an accurate taper and smooth finish for leak-free performance and assured interchangeability. The range consists of around 1,000 products allowing for one of the most comprehensive ranges of jointed glassware available.
MBL Volumetric Glassware
The MBL volumetric glassware range offers exceptional value for money and is ideal for general volumetric applications. The MBL range comprises of around 300 products including volumetric flasks, measuring and mixing cylinders, pipettes and burettes offering one of the widest selections of volumetrics available.
Ramboldi Plastic Disposable Labware
Ramboldi (RBI) plastic laboratory disposable consumables is the brand of choice for sample collection and liquid handling products that are used extensively throughout the clinical sector. Core products in the range include sterile sample collection containers, primary urine tubes, Pasteur pipettes and inoculation loops which are sold in case quantities with convenient inner packs for ease of distribution.